April 10, 2017
Cheshire TV, located in the Keene Library Annex at 76 Winter Street in Keene, NH, is currently seeking bids to temporarily move Cheshire TV facilities next door to the Kay Fox room in the Keene Public Library while renovations are being made to the Annex.
Cheshire TV is accepting bids on: 1) moving furniture, boxes, and equipment; 2) constructing a temporary studio space in the Kay Fox room in the Keene Public Library; and 3) providing audio/video routing services with Time Warner as a Broadcast Service Technician.
Any contractors interested in bidding for these jobs should plan to meet with CTV Director Mark Nelson at Cheshire TV located 76 Winter Street on Monday, April 17th at 9:00 AM.
Please email questions to MNelson@cheshiretv.org or call 603-283-6621.
---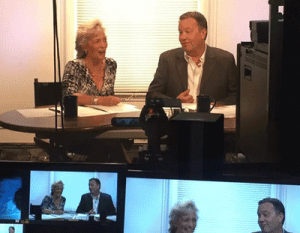 We shoot several weekly TV shows in our humble studio, right here in downtown Keene. Our shows are shot live-to-tape (there's actually no tape anymore) so that when the hosts and/or guests walk out of the studio, that show is "in the can" as we say - finished! The standard best-practice is a two person talk show style show, shot with three cameras. Having a guest or co-host usually makes things more interesting for the viewers, as does the live-switched, multi-camera production format. Good lighting is easy in a studio setting, and a nice backdrop for all camera angles is something we strive for.
That's all nice, but you don't need any of that to shoot your own TV show. One camera will work fine. We have them and offer training to our members who wish to use them. Don't have a TV studio? Well, members can learn to use ours - or maybe just clean up your office or living room a bit (or don't, it's your show!) Poof, you can call that your set now. You can shoot almost anywhere. Good lighting? Turn on all the lights in the room and give it a whirl. Play it back watch with a critical eye, and fix a few things, try it again. Striving for more? We can give you lots of tips and tricks for simple, budget lighting. Although we shoot live and without edits for efficiency of time, that doesn't mean you can't edit. Have all the do-overs you want. Shoot out of sequence. Take out the parts you don't like. Bring your viewers to the park or to the airport with the clips you shoot anywhere, any time.
We also have the high-powered edit computer you'll probably need to complete your show, which is of course available to members.
For more information about local TV production through Cheshire TV, or getting help creating your own show, contact us. It's what we're here for, and we're happy to help you get your message out to the community!
---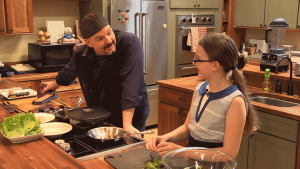 Cheshire TV features many local programs, weekly shows, and filler pieces such as public service announcements, local informational pieces, and creative projects. Fun fact: anyone can submit content for cablecast, and almost anyone can make a great looking TV show. We're here to help the self-starters by providing equipment, training, and access. We also shoot some of our shows in-house, and we have several new ones on the way.  Watch this space for information, coming soon.
---